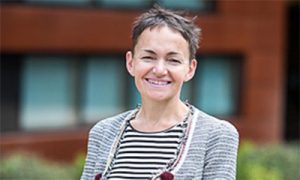 Annie Gammon is the London Borough of Hackney's Director of Education.
Formerly headteacher of Stoke Newington School, Annie led the school on Clissold Road for 10 years before taking up her current post in September 2018.
Annie has worked in education for over 25 years, and was previously deputy headteacher at Sir John Cass Redcoat school in Tower Hamlets, where she acted as a consultant for the council.
She was also a founding member of the Advisory Committee on Mathematics Education (ACME), which advises the government, and chairs the 21st Century group of Hackney headteachers.
Annie is looking forward to working with children, staff and parents to build on the strengths of a borough with some of the best schools in the country and is committed to making sure all young people in Hackney have the best possible start in life and can access the opportunities available to them across the borough and beyond.