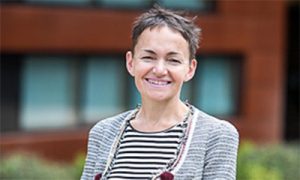 Dear colleagues,
I am keen to stay in touch with you and let you know what I have been up to as Head of Hackney Learning Trust/Director of Education. To help with this I am going to write an informal "blog style" update every four weeks to go out to schools and settings in Hackney. This will add to the regular communications from HLT and the ad hoc formal letters (you will hear formally from HLT about any forthcoming events which I mention here). This is the first one in the series! Feedback is welcome.
I have been in post for 4 weeks now and have been getting to know teams and individuals at Hackney Learning Trust (HLT) and Hackney Council. I've been finding out about the work of my colleagues here in more detail as well as talking about my aims and priorities. I have been very impressed by the expertise and commitment to Hackney, its educational settings and young people, which I find here at HLT. We're working on revising our mission, values and vision for the next five years so that our sense of purpose, our goals, and how we work are fresh and explicit: do look out for more information about this.
It has been a pleasure to meet with headteacher colleagues at the primary and secondary meetings last week. I hope the start of term has gone very well for all of you. I congratulate you collectively on the overall results for our Hackney young people this summer. Please keep up the high standards, the ambition and aspiration, for each individual child, which underpins that work. I was really pleased to see examples of headteachers and other leaders working together last Thursday, sharing best practice and supporting each other. I know we are stronger when we work together than if we are isolated.
You will know that my background is in secondary education, so it has been a valuable learning experience for me to meet and work further with colleagues from primary and early years' settings. I've prioritized meeting colleagues who work with our more vulnerable students: those in the SEND team, those in the exclusions team and those in the reintegration team. It was good to see, this week, the strong work going on in the Boxing Academy alternative provision. You will be aware of national concern about exclusions and what happens to students permanently excluded from schools: that national concern is also acutely felt locally. I have put additional resource into enacting our exclusions action plan which we have almost finalized. You may know we have asked for headteacher representatives for the board to oversee this: thank you to colleagues who have volunteered.
One part of my role is to be part of meshing together all the services which work closely with schools. These include council led services such as social care, and the wider services such as health. It has been really instructive meeting colleagues who work in these fields and talking together about shared projects, including those taking place through the integrated commissioning pilots. I will talk further about this at the Director's Meeting on 14 November.
I had time to talk at the primary headteachers' meeting about the position re the Hackney Schools Group concept. We have had very useful workstream meetings with representative headteachers and governors. I look forward to the next stage of the consultation which is likely to be meetings with clusters of schools in the second half of term. We hope to open these up to slightly larger numbers of governors.
More has been going on than I have space to write about – and, of course, I know that most crucial to our young people is the face to face work you and your staff do with our young people in children's centres, nurseries, primary school, secondary schools and colleges and other settings. Thank you for all you do, as leaders, to ensure this is of the highest quality: it really make a difference to each child and to their family.
Please do let me, or other colleagues, know if you have any questions, thoughts or concerns about our work at HLT. I look forward to meeting you over the coming period.
With very best wishes,
Annie Gammon
@HackneyDirofEd